JOIN THE DYO
Come join the DYO in 2022! Auditions open on Tuesday 1st February. Information on this year's audition requirements can be found here.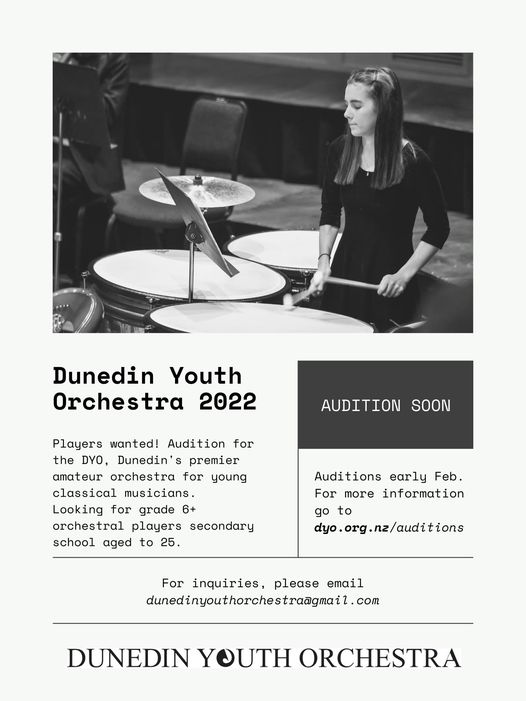 TĀONGA AOTEAROA
In September we were fortunate to come out of lock down and were able to perform and share music from our time and place, 'Taonga Aotearoa'. Soloist Boudewijn Keenan gave an excellent rendition of the second and third movements of Joseph Haydn's Cello Concerto No. 1 in C major. We also performed two world premieres: DYO Audrey Reid composition competition winner Cameron Monteath's piece Two Variants, and NZSO National Youth Orchestra composer in residence Ihlara McIndoe's I am not made of mud, meat, or music. The concert/open rehearsal is still able to viewed here, and we would very much like to thank Nathaniel Otley for his review of the concert.
Congratulations to our 2021 Young Musician Award winners Rose Stevenson (violin) and Ellen Walters (cello). Rose and Ellen will perform in front of the orchestra at our 2022 concerts. Many thanks to the family and friends of the late Terry Crooks for sponsoring the Young Musicians' Award.
We'd also like to give a huge thanks to the Otago Community Trust and Creative Community NZ for their sponsorship of the orchestra.
Keep an eye on Facebook or Instagram for more updates.
Soloist Boudewijn Keenan, and Ellen Walters and Rose Stevenson being presented their awards by Peter Adams