UPCOMING CONCERT – BY THE LIGHT OF THE MOON – SEPTEMBER 25th 7:30PM – KNOX CHURCH
Featuring our soloist and young musician award winner, Jonty Schmidt playing the first movement of the Mozart Oboe concerto. Also starring a new piece by the 2020 composition winner Megan Kyte called L'aube du printemps (Dawn of Spring). Other wonderful pieces the orchestra will be playing under conductor David Burchell include: Danse Macabre (Saint sans), Clair de Lune (Debussy), die Fledermaus (Strauss), Night on bald mountain (Mussorgsky) and a homegrown piece by David Farquhar called Ring around the Moon. Something for everyone!
Tickets available now from Under the Radar or Relics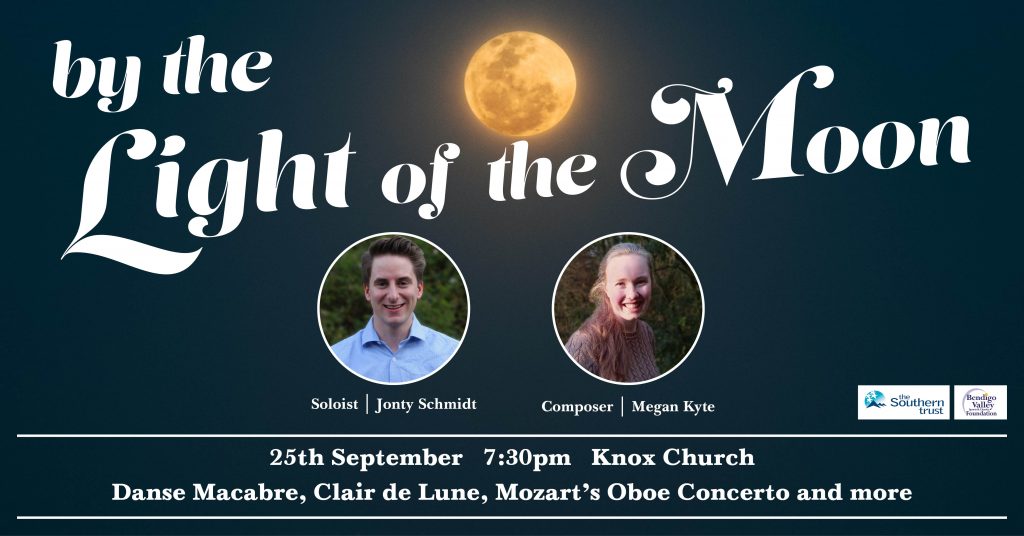 ORCHESTRATED EMPOWERMENT – RECORDING
Conducted by Beth Cohen, a recording of our latest concert from the 25 July 2020 is now available for your viewing and listening pleasure. The programme included:
Mozart – Overture to the Magic Flute 'Die Zauberflöte'
Saint Saens – Cello Concerto No. 1 in A minor, Op. 33 (Soloist Sophie Hamer)
Bedrich Smetana – Má Vlast No. 2, Vlatava (The Moldau)
Anthonie Ritchie – Remember Parihaka
Arturo Márquez – Danzón No. 2
AUDREY REID COMPOSITION PRIZE
Congratulations to Megan Kyte, the winner of the 2020 Audrey Reid Composition Prize with her piece, 'L'aube du printemps' (Dawn of spring). The orchestra look forward to performing her piece at our Semester Two 2020 concert to be held on September 25. Many thanks to the University of Otago Mozart Fellow, Kenneth Young, for presenting the award.