MUSIC FOR ROYAL OCCASIONS
Saturday 28th May at 4PM – Hanover Hall
The Dunedin Youth Orchestra presents our 2022 Semester 1 concert, 'Music for Royal Occasions'. Conducted by David Burchell, this concert will be in honor of the Platinum Jubilee of Queen Elizabeth II this year.
The programme includes:
Music for the Royal Fireworks – G.F Handel (arr. Cantos)
Five Courtley Dances – Benjamin Britten
Crown Imperial – William Walton
Waltz from Swan Lake – P.I. Tchaikovsky
Tickets are $10 for adults, $5 for students and kids are FREE!
The programme can be viewed/downloaded here: https://drive.google.com/file/d/10htLcOz81Fde5FnnorsYZK76MT-km3sk/view?usp=sharing
We'd love to see you at our concert but if you are unable to make it we will be live streaming here: https://livestream.com/accounts/15197514/events/10429044
The DYO is a non profit volunteer based orchestra and any donation would be greatly appreciated, helping us support and encourage young musicians.
If you wish to make a donation by bank transfer please pay to:
Account name: Dunedin Youth Orchestra
Account number: 38 9012 079195501
For a receipt please email [email protected] with your name and donation in the subject line. (Donations made to DYO are tax deductible).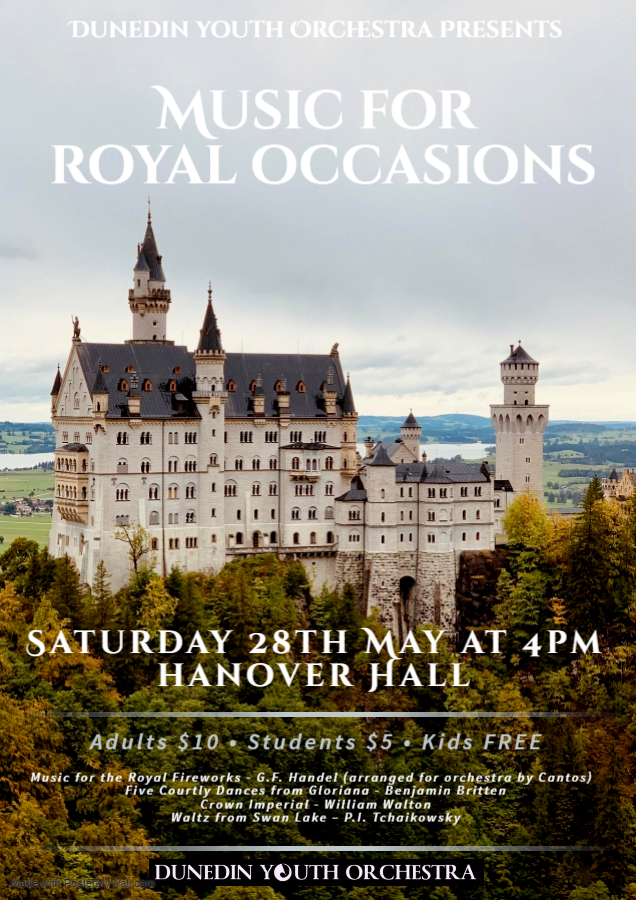 —————————————————————————