Entries are now open for the Dunedin Youth Orchestra Young Musicians' Award, and close on Friday August 28th 2020. This year, there is one award. Further information, and a downloadable application form can be found here:
https://docs.google.com/document/d/1hX2UMeWowciecf8LREM5Urwrp9Cm0qgW52_Vz6CHgMU/edit?usp=sharing
The purpose of the Award is to recognise outstanding achievement and commitment of Dunedin Youth Orchestra members. The selected member of the orchestra will receive financial assistance to further their musical career. The recipient also has the opportunity to play a solo piece with the orchestra in the year following the award.
A selected member represents a young musician who has been judged to have the potential to achieve further heights in their musical performance or career and who represents what can be achieved through hard work and endeavour.
The award is presented at our concert in September; applications close August 28th and are limited to players who are members of DYO for both semesters of the current year,  have played in the semester 1 concert and will be playing in the semester 2 concert of the current year.
Congratulations to our 2019 winners Jonty Schmidt (oboe) who received the award from the Friends of the DYO with Marks & Worth and Amity Health and Sophie Hamer (cello) who received the Polson Higgs and Friends of the DYO award.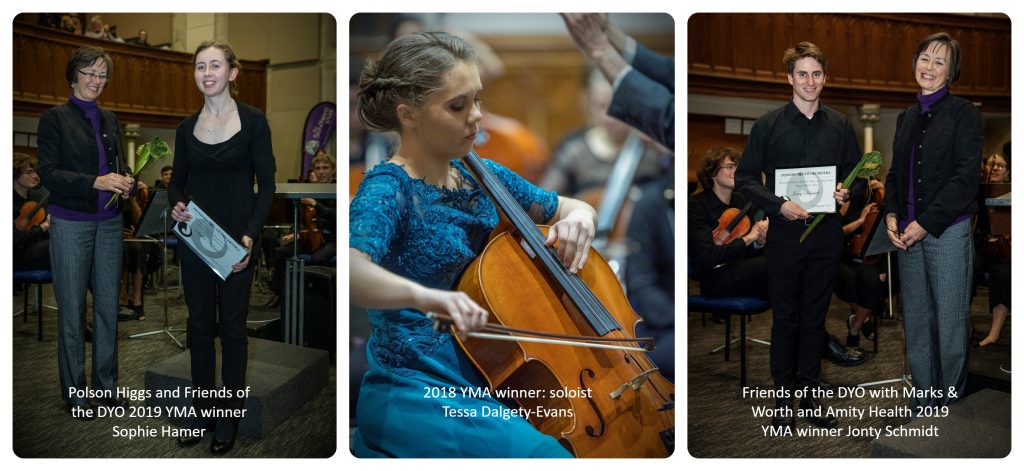 Previous recipients include:
2018
Ngaruaroha Martin – Violin
Tessa Dalgety-Evans – Cello
2017
Isaac Shatford – Piano
Andrew Robinson – Clarinet
2016
Natasha Manowitz – Flute
Nathaniel Otley – Violin
2015
Elliot Tay – Clarinet
Jacinda Kumar – Violin
2014
Olive Butler – Violin
Matthew Scadden – Violin
2013
Max Wilkinson – Trombone
Natasha Kumar – Clarinet
2012
Sam Vennell – Double Bass
Maple Goh – Violin
2011
Nicole Batchelar – Clarinet
Stephanie Buzzard – Violin
2010
Jonathan Drummond – Cello/Piano
Juno Pyun – Violin
2009
Myles Chen – Cello
Jerome Rouse – French Horn
2008
Sarah Claman – Violin
Feby Idrus – Flute
2007
Nanae Sato – Cello
Joe Donnelly – Bassoon
2006
John Roxburgh – Viola
Michael Crawford – Clarinet
2005
Jonathan Squire – Cello
Kirash Taghavi – Violin
2004
Helen Bevin – Viola
Tim Walsh – Trombone
2003
Hwee Sin Chong – Violin
Kirsten Bevin – Flute
2002
Kelly Nichol – Violin & Double Bass
Sarah Fahey – Violin
2001
Kate Donnelly – Oboe
Sarah Hooper – Violin
2000
Alex Vaatstra – Violin
Anna Sneyd-Marshall – French Horn