Dunedin's professional orchestra the Southern Sinfonia is in for a busy couple of months in September and October with two concerts, an international tour, and a number of other recent and upcoming events.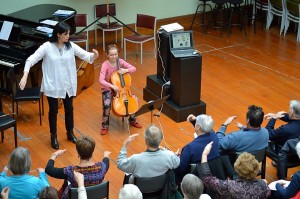 Cello masterclass
Last weekend, on Sunday 8 September, Heleen du Plessis (University of Otago lecturer in cello) led a presentation and masterclass entitled "How I teach, why I teach, what I teach". Knowing that making music is not just something to be talked about, Heleen gave hands-on instruction to a small crowd who varied both in age and in cello experience. One lucky attendee even got her first cello lesson ever!
This event was supported by the Friends of the Sinfonia–to see a full album of photographs, check out the Southern Sinfonia on Facebook.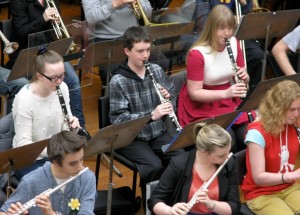 Play with the Orchestra
This weekend, the Sinfonia presents its annual "Play with the Orchestra" event. This is open to young musicians around Dunedin–including members of the Dunedin Youth Orchestra–who play alongside members of the Southern Sinfonia. This year, the music includes Dvorak's Symphony No 6, which the Sinfonia will be performing at the Town Hall the following week.
The conductor for this event will be Simon Over, a fantastic conductor who frequently conducts the Sinfonia. "Play with the Orchestra" takes place this Saturday 14 September, 2-4pm, at the Sinfonia Rooms. DYO members reading this post who are interested in taking part but have not yet put their name forward ought to get in touch with the Sinfonia asap!
Journey to Central Europe
Coming up soon is also the Sinfonia's final International Series concert for 2013. "Journey to Central Europe" features music by Mozart and Dvorak, as well as Dunedin-trained vocal soloists, the Southern Youth Choir, and City Choir Dunedin. The promotional blurb states:
Vienna, Salzburg and Prague feature prominently in the early history of this performance. Mozart's Great Mass, composed in Vienna in 1782 has been described as having "dark-toned and solemn, forthright and vigorous choruses, sumptuous solo arias, and ensembles of ornate, operatic radiance." With our four soloists (all trained in Dunedin) and Southern Youth Choir, we celebrate City Choir Dunedin's 150th anniversary year. London-based Simon Over will also conduct Dvořák's Symphony No. 6. The work perfectly balances Czech folk sentiment and the classical symphony structure, and some consider it Dvořák's orchestral masterpiece.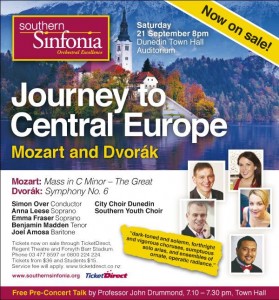 There will also be a free pre-concert talk by Professor John Drummond of the University of Otago.
Saturday 21 September, 6:30pm
Dunedin Town Hall
Simon Over – conductor
Anna Leese – soprano
Emma Fraser – soprano
Benjamin Madden – tenor
Joel Amosa – baritone
Southern Youth Choir
City Choir Dunedin
MOZART Mass in C Minor
DVORAK Symphony No. 6
Book online at Ticket Direct.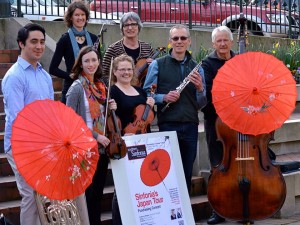 Tour to Japan
And although the Southern Sinfonia won't actually be going on a journey to central Europe, they are going on their first ever international trip to Japan! This is an invitation-only visit to the Asia Orchestra Festival from October 3 to October 10.
Simon Over will conduct the orchestra in Japan, and also in attendance will be piano soloist Stephen de Pledge and composer Anthony Ritchie (who is presently conductor of the Dunedin Youth Orchestra). One of Anthony's compositions, Remember Parihaka, will be performed by the Sinfonia while they are overseas.
Before the Sinfonia leaves for Japan they will play a fundraising concert in Dunedin on October 2, the night before they fly out. Some members of the Dunedin Youth Orchestra who also play in the Sinfonia will be attending the trip–fortunately it is placed right before their university exams begin, as opposed to during the examination period!
Fundraising Concert
Wednesday 2 October, 6:30pm
Dunedin Town Hall
Simon Over – conductor
Steven de Pledge – piano
ANTHONY RITCHIE Remember Parihaka
GRIEG Piano Concerto
BRAHMS Symphony No. 2
Book online at Ticket Direct.
Best of luck with your exciting couple of months, Southern Sinfonia–the Dunedin Youth Orchestra will be supporting you all the way!