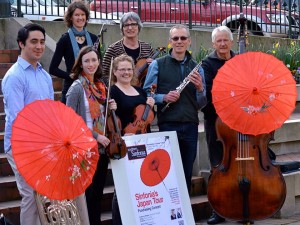 As reported earlier, the Southern Sinfonia is leaving for Japan this week. They will be attending the invite-only Asia Orchestra Festival from October 3 to October 10.
Before they fly out, the Sinfonia is putting on a final fundraiser concert this Wednesday 2 October at 7:30pm in the Town Hall.
This concert is designed to give Dunedin audiences a sneak preview of the programme Sinfonia is taking to Japan, as well as raising some extra funds at the same time.
The concert includes a performance by one of New Zealand's leading pianists, Stephen De Pledge, and a composition by prolific Dunedin composer and recent Dunedin Youth Orchestra conductor Anthony Ritchie. Both Stephen and Anthony will be travelling to Japan with the Sinfonia.
England-based conductor Simon Over, who recently worked with the Sinfonia in their highly-acclaimed concert Journey to Central Europe, will conduct the orchestra in the fundraising concert and in Japan.
Fifty-two orchestra members will make the tour, including DYO members Max Wilkinson and Luke Trainor (both trombone).
In order to make this concert more accessible to the Dunedin community, the Sinfonia has issued every Dunedin Youth Orchestra member with a free double pass. DYO members are encouraged to make the most of these free passes and attend this concert to farewell the Sinfonia.
Donation boxes will be available at the concert for those who would like to make further donations to the Sinfonia's tour.
Fundraising Concert
Wednesday 2 October, 7:30pm
Dunedin Town Hall
Simon Over – conductor
Steven de Pledge – piano
ANTHONY RITCHIE Remember Parihaka
GRIEG Piano Concerto
BRAHMS Symphony No. 2
For further information, see www.southernsinfonia.org.